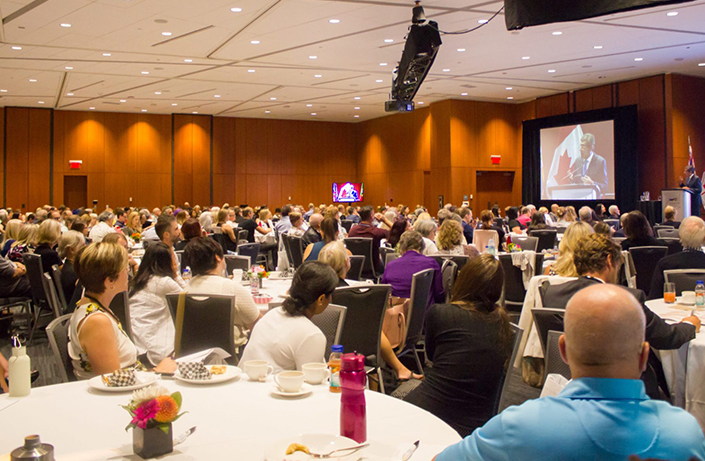 Recovery Capital Conference of Canada
Location: Multiple locations across Canada
Date: September 2, 2020 - September 30, 2020
Recovery Capital focuses on developing social capital (healthy and stable relationships), material capital (finances and accommodation), human capital (mental and physical health, skills and employment) and cultural capital (values, beliefs and attitudes).
The Recovery Capital Conference of Canada will feature international researchers, clinicians and policy makers who are leading the change in care for mental health and addiction. The presenters will discuss evidence-based addiction recovery solutions.
Attend one of the locations of the Recovery Capital Conference to participate in the launch of a recovery capital assessment toolkit and to learn about the upcoming new recovery capital certifications.
See below for this year's locations and dates. Learn more about the Recovery Capital Conference on the conference website.
---
Dates and Locations of Recovery Capital Conference of Canada
Recovery Capital Conference of Canada New Westminster 2020
September 2–3
2020 Anvil Centre New Westminster
777 Columbia St, New Westminster, BC V3M 1B6
Recovery Capital Conference of Canada Calgary 2020
September 10–11, 2020
Telus Convention Centre Calgary
136 8 Ave SE, Calgary, AB T2G 0K6
Recovery Capital Conference of Canada Winnipeg 2020
September 14–15, 2020
RBC Convention Centre
Winnipeg 375 York Ave, Winnipeg, MB R3C 3J3
Recovery Capital Conference of Canada Regina 2020
September 29–30, 2020
Delta Hotel Convention Centre
1919 Saskatchewan Dr, Regina, SK S4P 4H2
Recovery Capital Conference of Canada Halifax 2020
September 18, 2020
Halifax Convention Centre
1650 Argyle St, Halifax, NS B3J 0E6