Informing Change
Change informed by evidence is a central theme for the Canadian Centre on Substance Use and Addiction (CCSA). As an independent, neutral, non-partisan and trusted third-party expert on substance use and addiction, our work is always firmly rooted in science and sound methodology, and driven by compassion.
We take our collaborations with other Canadian scientists and service providers seriously. In our 2019–2020 fiscal year, we listened to our partners and stakeholders to better understand their needs.
Based on what we heard, we initiated new projects to meet those needs. We also changed or expanded mandates on numerous ongoing projects. We call our annual report Informing Change as a testament to the changes we implemented this year and the related impact and influence these changes have made on issues related to substance use and addiction.
Secondary Body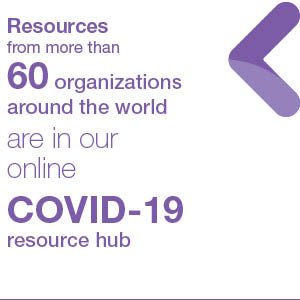 The COVID-19 Pandemic
Informing Change is a particularly appropriate theme for our annual report with the emergence of COVID-19 at the end of the fiscal year. Canadians need information on the coronavirus, how to protect themselves and how best to mitigate its impact on their lives. We listened to our stakeholders and quickly focused on providing information on how COVID-19 would affect substance use issues. We also launched a comprehensive resource hub pulling together all publicly available resources and tools related to COVID-19 and substance use. We continue to update the hub, keeping it a primary source of information for professionals in the field, as well as people with lived and living experience of substance use.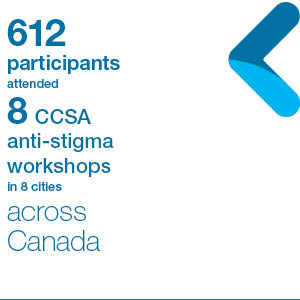 Stigma
Stigma can be a powerful obstacle to change. To find out how to counter the stigma surrounding substance use, we sought the advice of leading experts including a Harvard University anti-stigma specialist and our three new advisory groups made up of people with lived and living experience and their family and friends. What they told us helped influence several projects. We initiated a pilot project to address the effects of stigma on people who use drugs by harnessing the power of collective impact in a community. The project brings together key partners to develop a sustainable, community-led action plan that can be scaled up for other communities in Canada.
In partnership with Community Addictions Peer Support Association, we published Overcoming Stigma Through Language: A Primer. This document helps Canadians learn how to avoid stigmatizing language when talking about substance use or people who use substances. From its launch in November 2019 to the end of the fiscal year, the primer had close to 2,000 downloads.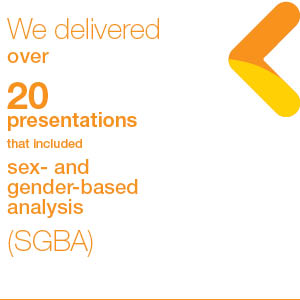 Sex- and Gender-Based Analysis
During the past year we included sex- and gender-based analysis (SBGA+) in the work we do. We brought in experts from the Centre of Excellence for Women's Health to increase our awareness and understanding of these issues and to teach us how to use SGBA+ in our work. We incorporated SBGA+ criteria into the abstract submission guidelines for our Issues of Substance 2019 conference. We also delivered over 20 presentations last year that included SBGA as part of the content.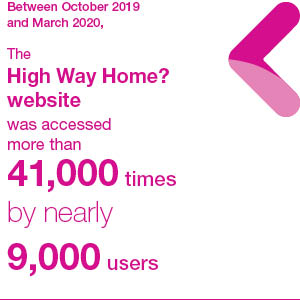 Listening to Youth
We made sure to capture the interest and attention of Canadian youth. They told us they want to make informed decisions about substance use. We developed two projects last year to provide young people the tools and resources they want. The Improving Treatment Together project works closely with families, along with Alberta Health Services and Foundry BC, to co-design resources, tools and treatment solutions to assist young people with opioid use disorder.
The second project is an interactive website challenging Canadian youth to make smart decisions. "The High Way Home?" guides young people through real-life scenarios where they must make decisions about cannabis use and driving. The site resonates with Canadian youth as it has been accessed more than 41,000 times by nearly 9,000 users since its launch in October 2019 until the end of March 2020.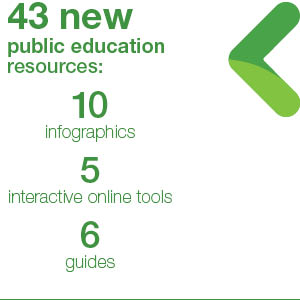 Cornerstone of Cannabis Information
In October 2019, edible and beverage products, topicals and extracts containing cannabis became legal for Canadians to buy and consume. We listened to Canadians who wanted to know about these different products and the potential impacts they could have on their health. Leading up to the legalization date, we produced a series health promotion and educational resources about the products. These resources provide Canadians the information they were looking for.
We also produced and have continued to update an interactive map of the provincial and territorial cannabis regulations in place across the country to provide a comprehensive national picture of cannabis policies. The map was accessed close to 2,500 times last year.
As much as CCSA is a credible voice and an established leader in the field of substance use and addiction, as a national organization we have an equal responsibility to recognize and encourage the innovative work being done throughout Canada. We will continue to showcase the work other Canadian scientists and service providers are doing to help advance their work and shine a light on the progress being made in every corner of the country.
As CCSA moves forward with its national mandate, we will continue to listen. By listening to partners, stakeholders, healthcare professionals and the Canadian public, we will try to understand the current landscape of substance use issues and its challenges. With this understanding, we will continue to inform change on substance use and addiction across Canada.
View annual reports from previous years: